3 minute read
7 data ingestion tools you should consider [Updated list]
A good data ingestion tool is essential if you want to transfer big volumes of data. Here's a list of the 7 best tools to consider.
To have a sound business strategy, you need to extract insights from the huge volume of data generated within the organization. Doing this manually is a huge cost in terms of time and money and this is where data ingestion tools prove useful.
Data ingestion tools are gaining momentum in every organization as it plays an integral role in the decision-making process.
They've also become a more sustainable solution as manual extraction of data from multiple sources for analysis is time-consuming and expensive.
Here are 7 data ingestion tools to consider (with a full explanation of how you could use them to achieve your business goals):
Data ingestion tool #1: Datavid Rover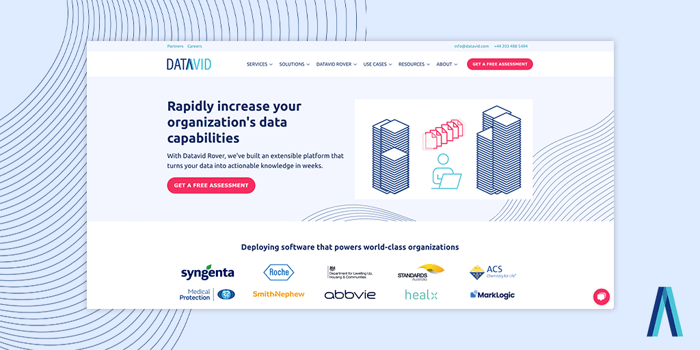 Datavid Rover is a powerful data platform that includes ingestion capabilities to help you collect, process, and visualize data easily from various sources.
It offers a flexible and user-friendly interface that makes working with even the most complex data sets easy.
It saves time mining data from thousands of sources by automatically identifying and extracting the most relevant data, helping users to focus on their analysis rather than data preparation, enhancing their effectiveness.
Datavid Rover also pays attention to compliance and data governance by providing comprehensive control over how data is used, accessed, and shared.
You can save money on data storage and processing costs by using Datavid Rover to download only the data you need from sources and process it in the cloud.
Data ingestion tool #2: Improvado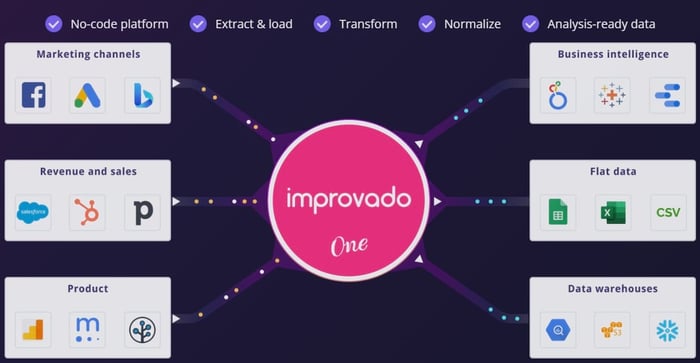 Improvado is a data ingestion tool that allows you to collect data from multiple sources and ETL it into your data warehouse.
It has an easy-to-use interface and supports a variety of data sources, making it an excellent option for those who need to ingest data from multiple sources, such as different departments in the business.
This tool is mainly used in marketing and advertising analysis to streamline marketing data analysis by assembling all the data into one place.
It is also used for web analytics, retail analysis, attribution modeling, and much more.
All the complex marketing analysis can be automated with this tool, freeing time to concentrate on chasing leads and increasing sales.
Data ingestion tool #3: Google BigQuery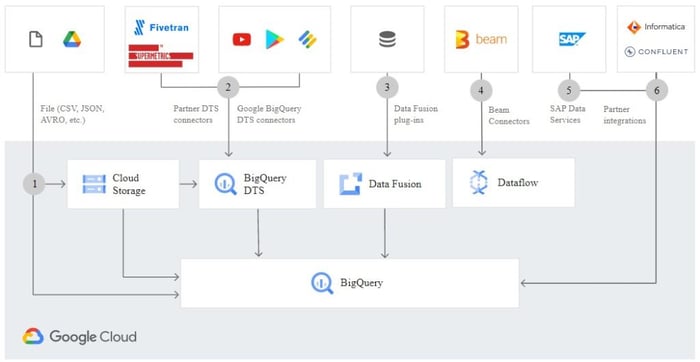 Google BigQuery is a cloud-based platform for data warehousing that enables you to ingest data from various sources and store it in a secure, scalable repository.
It's easy to use and offers a variety of features, making it an excellent option for those looking to operate in the cloud. It can ingest data from various sources such as CSV files, JSON files, and Google Cloud Storage.
It offers a variety of features such as the ability to specify data types, schema validation, and support for nested data structures which helps business owners collect and analyze data from various sources.
Data ingestion tool #4: Hevo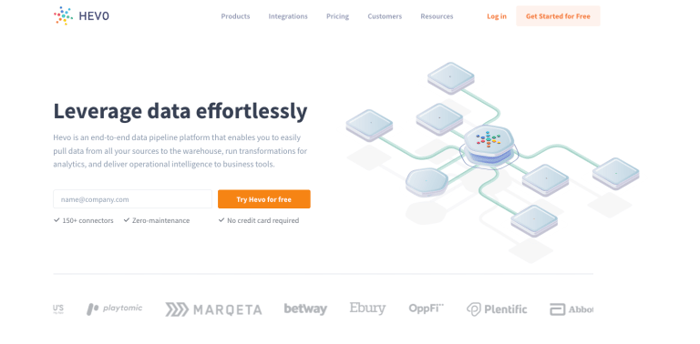 Hevo is a fully-automated, no-code data pipeline platform that helps organizations leverage data effortlessly.
Hevo's end-to-end data pipeline platform enables you to easily pull data from all your sources to the warehouse, and run transformations for analytics to generate real-time data-driven business insights.
The platform supports 150+ ready-to-use integrations across Databases, SaaS Applications, Cloud Storage, SDKs, and Streaming Services.
Over 1000 companies across 40+ countries trust Hevo for their data integration needs.
Try Hevo and get your data pipelines up and running in just a few minutes!
Data ingestion tool #5: Apache Kafka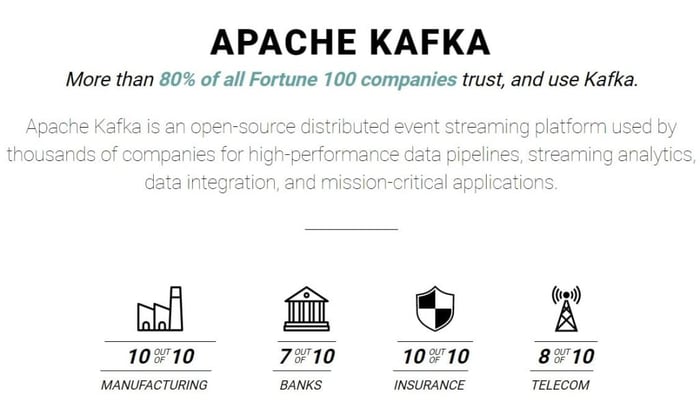 Kafka is used for building real-time data pipelines and streaming apps. It can handle a large amount of data very efficiently.
The platform is recognized for its low latency streaming, reliability, and ability to handle large-scale data architectures and is used by companies such as LinkedIn, Uber, and Netflix.
Apache Kafka is an open-source data ingestion platform with a vast ecosystem of tools that assist users in accessing extra functionalities.
Data ingestion tool #6: Apache NiFi

Apache NiFi is an open-source project that provides a robust platform for creating, executing, and managing dataflows.
The tool can collect, process, and route data in real time and has a web-based user interface that makes it easy to manage and monitor dataflows.
It supports a variety of plugins that can be used to extend its functionality.
Apache NiFi handles big data workloads, supporting SSL/TLS encryption, role-based access control, and data provenance.
Data ingestion tool #7: Wavefront

Wavefront is a purpose-built data ingestion tool for cloud monitoring and analytics. It provides a scalable solution to handle massive data in real-time.
Wavefront is well-suited for organizations looking to get insights into their cloud infrastructure and performance due to its capability to support multiple data sources, streaming analytics, and custom dashboards.
It can handle high data throughputs essential for organizations that generate large amounts of data.
It offers several features to get insights from data, such as streaming analytics and custom dashboards.
Which data ingestion tool should YOU choose?
A reliable data ingestion tool should help you make the most of your data with secure, cross-department enterprise applications that help you extract, enrich, and discover your company's most valuable knowledge while saving your vital resources.
Each tool has its own strengths like Datavid Rover is for enterprise data sources; Improvado suits more for marketing; Google BigQuery and Amazon Redshift for data warehousing; Apache Kafka for real-time data pipelines; Apache NiFi for dataflows; and Wavefront for cloud monitoring.
This article will have given a clear understanding of the differences and a clearer idea of which one is best for your business.
Frequently asked questions
A data ingestion tool is software to bring data into your system through various sources.
Good data ingestion tools should be easy to use, reliable, secure, and should support multi-data formats.
Top data ingestion tools are Datavid Rover, Improvado, Google BigQuery, Amazon Redshift, Apache Kafka, Apache NiFi, and Wavefront.