Datavid Rover: Semantic data platform powered by MarkLogic
Explore Datavid Rover's capabilities and learn how it leverages MarkLogic to enable semantic functionality.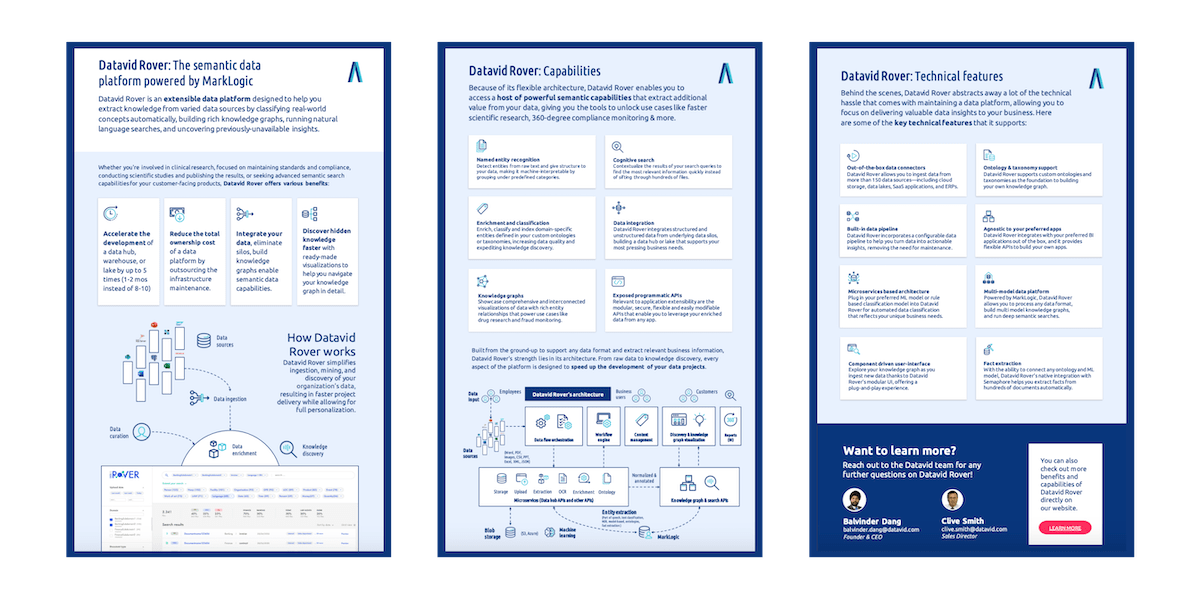 Resource type

PDF document
Dive into Datavid Rover with this quick overview of its benefits and capabilities.

Datavid Rover empowers your organization to make the most of its data with robust data integration capabilities, automated fact extraction, knowledge graphs, and out-of-the-box discovery tools. Plus, it comes with configurable APIs to build any application on top of your enriched data.
With MarkLogic powering its data hub, Datavid Rover can ingest and process any type of data:
Relational data (RDBMS, SQL)
Semi-structured data (XML, web pages, etc.)
Unstructured data (Word files, spreadsheets, PDF files, etc.)
Once processed, you can run deep semantic searches on your data, allowing you not only to retrieve documents but especially identify and correlate domain-specific entities within those documents (e.g. the effect of a drug on a specific disease, or the correlation of trades with financial fraud).

Learn how Datavid Rover tackles all of this and more in our detailed product sheet.